You, Mr. Anonymous poster routing yourself through Anonymouse. You have been reported for abuse there and I'm hopeing you don't get to use the service for much longer.
I know you live in Germany.
Hell, I even know WHO YOU ARE. But you won't say anything to me. You're too much of a coward to leave your name with your posts.
But you're somehow brave enough to FALSELY ACCUSE someone I love of 'abuse' and you have NO problem telling me I need to leave the person that makes me happy.
You'll never, EVER be this close to me. I considered you a friend, and that's ALL you ever would have been. I was nice to you, because I'm nice to -everyone-. But damn it, this is the last straw. You don't accuse someone I LOVE of being abusive and then go on to tell me to leave him. Either grow some fucking balls, and come back to talk to me in a few years when they drop and grow some hair, or just apologize, show your fucking name, and leave it at that.
If you choose not to take this seriously, I'm sorry that you have a small penis and can't consider yourself a MAN because of it.
Also, that post had NOTHING to do with the person you were trying to point out... It had everything to do, however, with someone who refused to 'like' a picture because of the name that was on it, instead of just taking the picture itself into account, and then comparing it to pornography. Wolf photograph in natural pose =/= Child Pornography. Sorry. *eyeroll*
-----
And now for the not-so-angry part. :3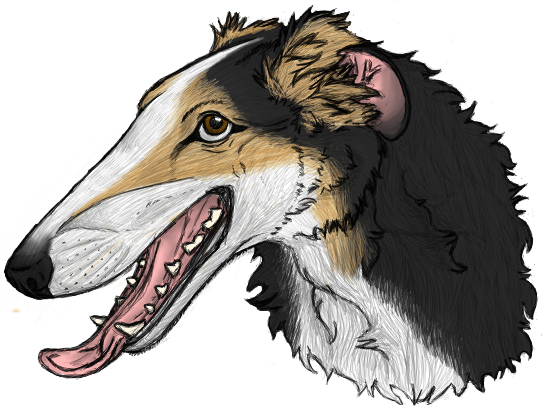 o_o It's a Borzoi head shot. Finally finished, and I'm happy with it. Gonna wear it to the dog show this week. :3